[SPECIAL CLEARANCE SALES] Light-Primer SPF30 PA++
You will be awarded 10 points after purchase this product
DESCRIPTIONS
*Take Note Of The Expiry Date Of This Product*
#Natural: 11/04/2019
#Pink: 27/06/2019 - 12/12/2019
Create a smooth, invisible layer that acts as a buffer between the skin and makeup. Can used to create a perfect canvas for foundation application or worn alone as it sheerest of perfection for the ultimate natural look.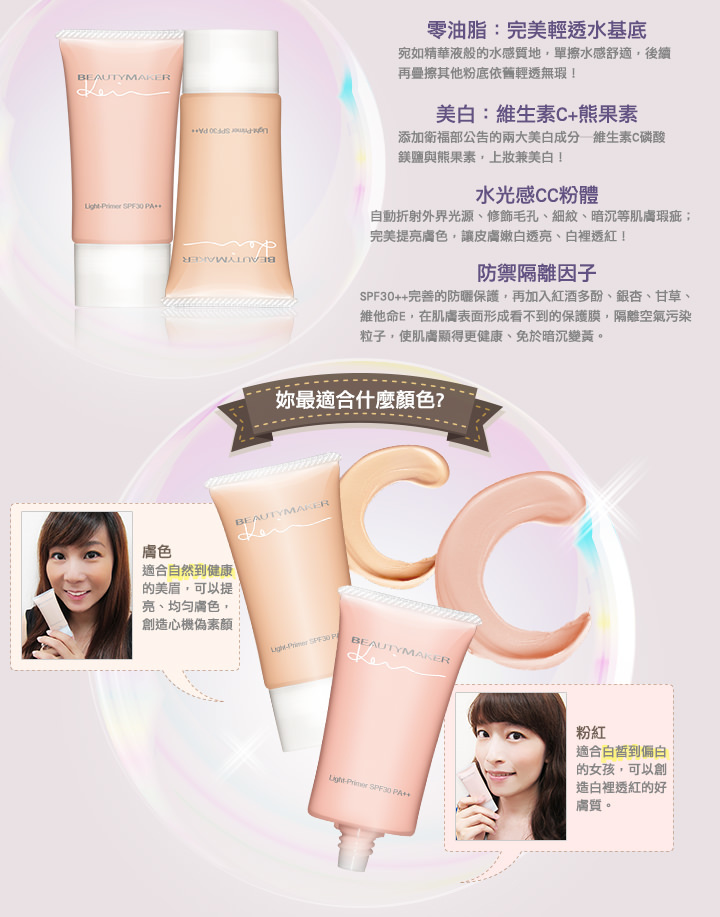 Ingredients:
Aqua, Titanium Dioxide, Cyclopentasiloxane, Octyl Methoxycinnamate, Isononyl Isononanoate, Dipropylene Glycol, PEG-10 Dimethicone, Ethylhexyl Palmitate, Alcohol, Aloe Barbadensis Leaf Extract, Talc, Luffa Cylindrica Extract, Silica, Glycerin, Octocrylene, Stearic Acid, Saccharomyces Cerevisiae (Red Win) Extract, Dimethicone, Hydrolyzed Silk Protein, Hydrolyzed Conchiolin (Pearl) Protein, Sodium Chloride, Glycyrrhiza Glabra (Licorice) Extract, Ginkgo Biloba Leaf Extract, Magnesium Ascorbyl Phosphate,Calendula Officinalis Flower Extract, Citrus Aurantium (Orange) Fruit Extract, Alpha-Arbutin, Methylparaben, Sodium Citrate, Propylparaben, Dipotassium Glycyrrhizate, Tocopherol, Butylparaben, Sodium Hyaluronate, Iron Oxide Yellow, Iron Oxide Red.
Size: 30 ml
Made in Taiwan
VIDEO & MEDIA
APPLICATION
How to Use
After cleansing and toning, apply evenly over face and neck.
Share to your friends